Posted by Rebecca Aughton on 23rd Aug 2022
Nobody does it better – Why Bra~vo is the best bra shoppe near you to find a bra that fits!
Type in bra shops near me into Google; if you're in the Metro Detroit area you might ping stores such as Sunny J's, Tina Marie, Busted Bra Shop, Soma or even Victoria's Secret. There are plenty of lingerie stores and bra shops nearby to purchase a garment that most people would recognise as a bra. But if you're looking to get a well fitted, expertly advised, comfortable and stylish bra that fits, and you have a large bust or are a plus size, then you might have a bit more difficulty.
There are plenty of bra stores that will happily sell you what you want, but at Bra~vo Intimates we will only sell you what you need. There's no pushy service, no obligation to buy. We pride ourselves upon ensuring our customers walk out of our Woodward Avenue store in Royal Oak feeling the very best version of themselves, with shoulders that are no longer hunched forward taking the weight of a badly fitting bra, but pulled back and chest forward, walking proud in the most comfortable bra you've ever worn. There are no saggy boobs leaving our stores because we don't mind you leaving wearing your brand-new bra!
What sets us apart from the rest:

Our bra fitters are bra educators – Scrap everything you've ever learned about bras and start from scratch with us as we take you through your journey to find your right bra size. We measure you for your bra size and use that as a guide, because measuring and fitting bras is an art, not a science. We don't go home with you to help you into your bra, so we need you to know exactly how a bra is supposed to fit. We teach you how to put a bra on properly so you can prolong their lifespan and ensure you're getting the most amount of support from your bra. We teach you the whys and wherefores of the different bra shapes that suit your bust the best, so you don't fall into the trap of needing to try hundreds of bras just to know your bra size. We teach you how to adjust the bra during its lifespan and how to know when it needs replacing. We even tell you how best to wash your bras so that they can last you longer.
Our bra fitters are trained by experts – Learning how a bra is supposed to fit on yourself can take a little bit of time. Learning how to fit a bra on someone else takes years. It's these experiences that set us apart from the rest. Our well renowned brand ambassadors have decades of experience themselves, but our breadth of knowledge from fitting thousands of customers ensures we understand exactly how to fit something to the most unique of shapes and sizes. The brands we stock fit differently to most of those stocked in the average American mall. Our fitters are trained by European and UK brands to ensure a full understanding of the styles and sizes and we automatically know how to convert those UK and European sizes to US. There can be a lot of confusion, especially over DD cup and DDD cup bras, but by visiting us for a bra fitting you're automatically eliminating all the potential mix ups. When we measure you for your bra, we make sure we're placing the tape in the right place at the right tension and we don't use silly formulas that add inches on. We understand that everybody is unique and two 38GG's will fit completely differently.
Our stock room is as important as the fitting room - We have over 200 sizes and over 150 styles to select. It's not a hang-sell environment; we bring the right bra size and styles directly to you in the fitting room. The relationships we have built with brands such as Elomi, Goddess, Panache and Scupltresse just to name a few, mean we have a fantastic understanding of what fits well for our clients and what doesn't, plus anything we don't have in stock can be special ordered in. We know our stock inside and out… show us a peek of lace and we'll probably tell you what bra that belongs to (and even what colours it came in!).
We're a small but mighty team of women – No big corporations, multiple locations or faceless entities here. What we do is honed to be done well. Bra~vo intimates is a female owned, small business set up by Rebecca Aughton more than two decades ago after a long career in fashion and retail, leading her to the role of US Sales Manager for prestigious brand Eveden (parent company of Freya, Fantasie and Elomi) now known as Wacoal Europe. It was here that Rebecca met and learned from corsetiere to Queen Elizabeth II, June Kenton and took the knowledge from those years with high end retailers with a nous for tailoring and combined it with the understanding of how important a great fit was for women with large busts and the role that quality bra construction played within that. Bra~vo's mission statement to rid the world of ill-fitted bras is no mean feat when such a high percentage of women are said to be wearing not only the wrong size but the wrong style of bra for their shape.
Over 600 Google reviews – don't just listen to us telling you we're great, read our glowing reviews and check out our 4.6 star rating on Google!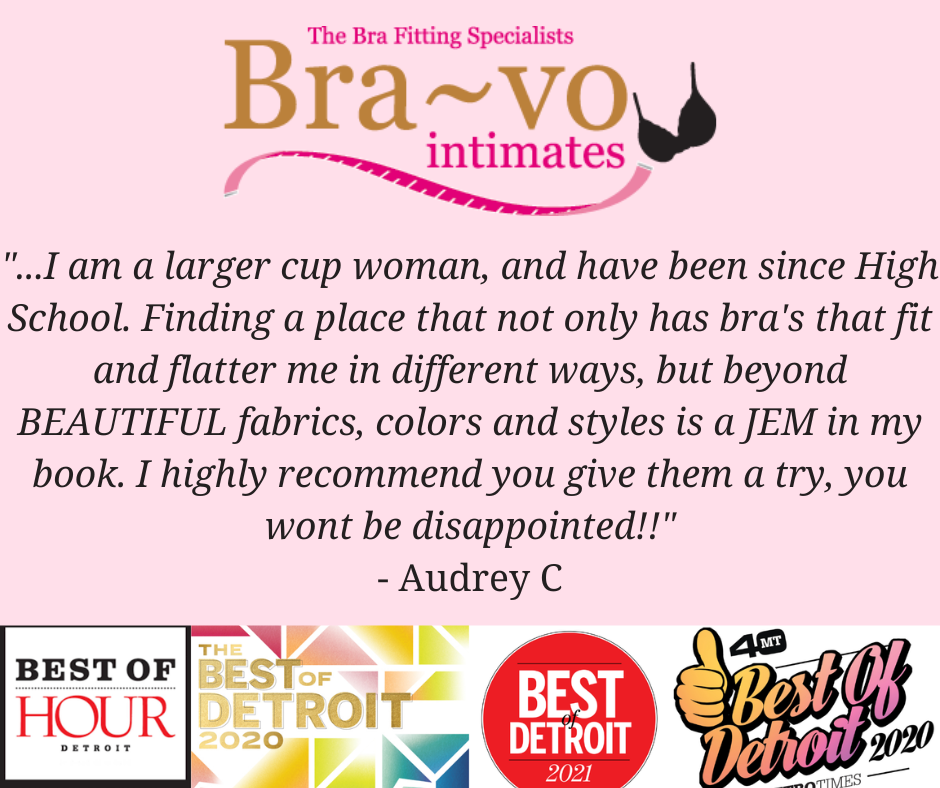 To enjoy the Bra~vo Experience for yourself and get properly fitted, especially if you're a fuller busted or fuller figured woman that needs comfortable and supportive bras in the Metro Detroit area,give us a call on 248-582-7286 to book your appointment now or book online here!
Our website is a treasure trove of bra information. From our bra education section to a glossary of terms to a conversion chart page showing what brands relate to which sizes, there's plenty of reading material to keep you entertained and educated.
Don't forget to subscribe to our newsletter to keep up to date with our blogs, events, fitting tips and beautiful new bras. Plus receive a $10 voucher towards your first purchase with us when you get fitted!